CALIFORNIA MOUNTAINEERING CLUB
GUIDELINES FOR MEMBERSHIP
---
Matthes Crest, 5.7, August 2011
CMC members Ron Norton and Paul Morash climbed the amazing Matthes Crest.
Join the CMC and participate in similar outings
with your fellow mountaineers.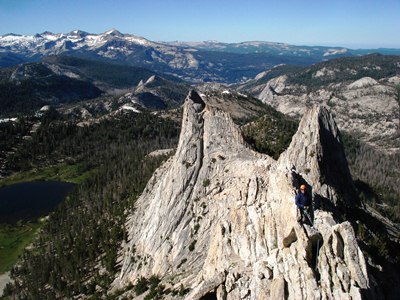 Is there any wonder why we love climbing in the Sierras?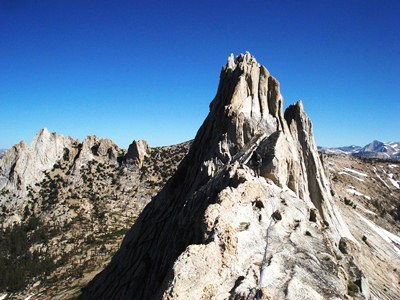 Is there?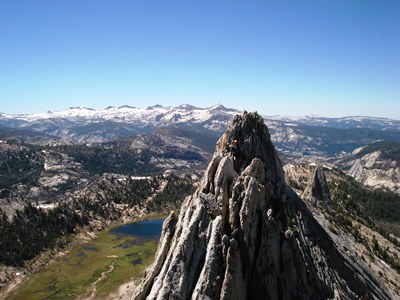 I mean seriously!!!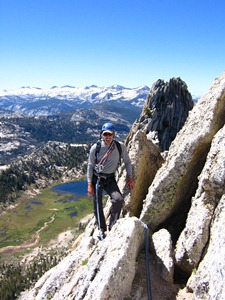 Lovin' life!
The CMC, a club of experienced mountaineers dedicated to promoting mountaineering, is pleased to welcome new provisional members Shayna Stein and Michael Zatto!
At a minimum, new Provisional Members, who must be at least 18 years of age, are expected to have proficiency and experience in roped climbing on rock and travel over snow using ice axe and crampons. Members are expected to be familiar with basic knots, anchoring, belaying, and rappelling; to be proficient in climbing on fourth or higher class rock; to have snow travel skills including cramponing, and to know the ice axe techniques for self-arrest, glissade and belaying. In addition, members are expected to be able to undertake multi-day mountaineering trips involving at least 4,000 feet of elevation gain, and up to 20 miles of travel, all in good style, while carrying all required equipment.
Your application for membership will be reviewed by the Club's Board of Directors to determine if you meet the requirements described in the paragraph above. Resumes indicating a lack of sufficient climbing experience will be returned with an indication of what additional experience the Board feels would qualify you for membership
Applicants are no longer required to have a sponsor, but are encouraged to do so if possible. A sponsor is a Regular Member who can assist the Applicant in the selection of trips appropriate to his/her level of experience.
All new members will become Provisional Members. Provisional Members may not lead trips. Provisional Members may become Regular Members by participating in at least two CMC climbs, one of which involves roped climbing on rock, and one which includes snow travel using ice axe and crampons. The Provisional Member must submit such experience, along with letters of recommendation from two Regular Members, to the CMC secretary, after a minimum of one year of Provisional Membership. Comments on the proficiency of the Provisional Member may be solicited from the general membership by the Board of Directors in evaluating any application for Regular Membership.
If you have questions regarding the CMC, please feel free to email us.
HOW TO APPLY FOR MEMBERSHIP
Please send the following materials:
Please send the above completed materials to:
Attn: Joe White

1764 Troy Lane
Oceanside, CA 92054
*These forms are in the Adobe Acrobat Portable Document Format (PDF) and the Acrobat Reader is required to download the forms..
Click on

to obtain a free copy of Acrobat Reader.
---
Page updated on January 29, 2019